My friend
Suzy
has decided to revive one of my favorite things--Show & Tell!!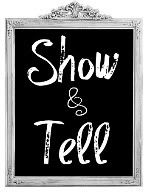 So, please stop over to
her
blog and participate!
Looking over at some recent photos I have, I wondered what I wanted to S&T today. I have TONS of Cape Cod photos, but I miss our time on Cape Cod so much now, I really did not want to remind myself that the summer is over THAT much...
So, we have pictures from the Spring! These pictures are from this May.
I find it interesting the little things that one finds when one is not looking for them. We had went into one of our favorite towns (Lexington) to just look around and walk around on a nice spring day. And...lo and behold, there was the Lexington's First Annual Classic Cars festival happening right there!
One of the gentlemen had brought in this car from 1901. He not only let Michael sit on it, he actually pushed Michael around on it, letting him steer it (yep, that is the steering mechanism that Michael is touching there), and then demonstrated it to us by starting it up and riding it around the parking lot.
Willow, not to be outdone, found a car to match her outfit.
There were various cars, an old fire engine and you could vote on what car you liked best (we voted for that 1901 vehicle which is in the background of this picture--the owner is the guy in the baseball cap).
It was amazing to see these old cars, especially since they were displayed right nearby modern cars.